For my free Inquiry Project I have decided to learn Métis beading.
In 2011 my father did a genealogical DNA test and discovered he had Métis ancestry. His great grandmother was a Métis woman from the Red River Settlement in Manitoba. His great grandmother had hid her Métis heritage and claimed to have grown up as in an orphanage in St. Norbert, Winnipeg which had no record of her living there. It is speculated she was actually raised in the Residential School.
My father submitted the genealogical records he had tracked down to the Saskatchewan Métis Nations and after a few months my father, my brothers, and I were issued Métis status cards.
It is an interesting discovery and I am still thinking about how this fits in with my identity. For me, learning to bead in the traditional Métis style will be a comfortable place to start exploring the Métis culture.
October 1st, 2019
I have filled my parents in on my inquiry project. My father has sent me a copy of the Métis ancestry document and my mother has sent me a book. "Medicines to Help Us; Traditional Métis Plant Use" by Christi Belcourt. The book describes the medicinal uses for plants, and includes a photo of the authors bead work of each plant.
October 8th, 2019
I have started my first beading project! I decided to do a Saskatoon Berry bush to honour my home town. I have completed my first berry and started on a flower. I went to Beadwork Victoria and enjoyed picking out some colours and supplies. The woman who was working offered my advice and tips on what type of needle I should use and told me to rub some bees wax on the thread to prevent slipping.
A few tangled threads (despite the bee's wax trick) and snags here and there, the work is slow but satisfying.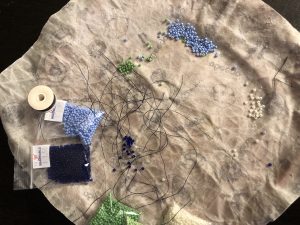 October 13th, 2019
I have been continuing to work on the white flower of the Saskatoon Berry and have been less and less happy with how it is turning out…
I watched a YouTube video on Métis Beading. Specifically, on a technique called the two needle flat stitch. I have decided to start over …